Approx. reading time 5 minutes
Find Out If You Are a Psychic Medium with these 7 Signs
Essentially, psychic mediums have the ability to sense and communicate with entities in higher dimensions. They most commonly communicate with the spirits of people who have passed to the other side. What makes a psychic medium different from being a straight-forward medium is having enhanced abilities in all the psychic senses. 
1. You May Be Highly Sensitive to Others
Natural psychic mediums may be highly sensitive to others. This means that you sometimes feel out of the loop with friends and family. Or, you may feel as though you don't fit in. Even joking comments may be offensive to you, and you might feel you are being ridiculed unfairly.
2. You May be Super Sensitive to Sounds, Odors, and Harsh Lighting
This holds true for me. Ever since I can remember, I've been sensitive to loud sounds, strong odors, and harsh lighting. If someone brings hamburgers or anything oniony into the room, it's hard for me to handle. Deafening music with a strong beat is sometimes unbearable, and being under harsh lighting for any length of time usually has me heading for the door.
3. You May Have Vivid Dreams
Most people don't remember their dreams in detail or only have a vague recollection of it. However, sometimes, you may wake up with clear memories of your dreams. People who are natural psychic mediums often experience vivid dreams that seem extremely real. If a dream is especially unsetting, the feeling of it may last all day and into the next day.
Or, the content of a vivid dream can cause feelings of joy and otherworldly comfort. It's as if you are in a heavenly place and are experiencing scenes from that dimension. You may even find yourself waking up wishing you could return to the dream.
4. Hearing Voices that Shouldn't Be There
From a young age, some individuals  hear whispers and voices when no one else can. This is called clairaudience. More specifically, clairaudience is the ability psychically hear with your mind's inner hearing. Of course, parents may be alarmed by this. But, for you, it's normal, and some parents can't understand it or refuse to. Hopefully, you weren't diagnosed as having schizophrenia. Sadly, this has happened to many natural-born psychic mediums, and they might spend many years undoing the damage of an incorrect diagnosis.
5. Knowing Things Will Happen Before They Actually Do
If you often get a sense of something about to happen, and it does, this is a sure sign of a psychic medium. It's called the gift of precognition or prophecy. Precognition is the knowledge or perception of future events. This psychic ability is typical for natural psychic mediums and one of the most frequently occurring. 
My most significant event of precognition was when I had a waking vision of the death and destruction caused by hurricane Katrina in 2005. It is by far the most emotionally and physically upsetting instance of precognition I've ever experienced.
6. You Experience Clairvoyant Events
Clairvoyance is the ability for psychic seeing—both psychically and intuitively—people, places, objects, and events not usually experienced with our physical senses of sight, seeing, hearing, or smell. Or, you may be going about your business, and suddenly a strange image pops into your mind's eye that is outside of your normal daydreaming. Additionally, you often see  flashes of light or sparkles in the room that have no explanation behind them. 
Sometimes these visions involve people and things you already know about and seem to be sending you a vital message. These messages can also sometimes send you an alert that either something is amiss or that someone in your life needs attention.
7. You Pick Up Vibes in a Place Easily
Have you ever walked into a room and felt the energy there and it wasn't great? This is the ability of Clairsentience. Most people have clairsentience to some extent, but for a psychic medium, it's a far more impactful. Being highly sensitive to the world around you is something that every psychic medium experiences at some time or another. 
8. You know Things about People and Places Without Knowing How
If you suddenly spout advice to a friend or co-worker that turns out to be relevant in their lives, you are engaging in your psychic sense of claircognizance. Claircognizance is the art of psychically knowing that is an awareness or thought previously unknown to us that bears truth. Often these events involve channeling messages of wisdom from your Spirit Guides, but you're unconscious of this fact. People who are strong in claircognizance are very much prone to be a natural psychic medium.
In conclusion: 
What makes a psychic medium different from being a straight-forward
medium
is additionally having highly advanced abilities via the
psychic senses
. Having any of the above indicators may signal that you are a natural
psychic medium
. Whether you're a practicing
psychic medium
or thinking about developing your skills in
Mediumship
, these indicators let you know that you're on the right track.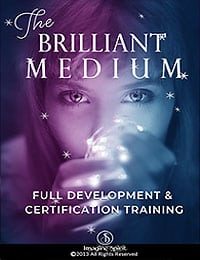 The Brilliant Medium Certification Training Become Certified as a Professional Medium and Help Others!
PAYPAL 4 PAYMENTS BUY NOW PAY LATER AVAILABLE FOR ALL OPTIONS
Mediumship & Psychic Training 2-Courses Bundled

 Spiritual Medium
 Mediumship, Read the Akashic Records, Angel Reader Counselor, and Spirit Guides Mastery Certification  
Paranormal Medium
Mediumship, Ghost Hunter Pro, and Spirit Attachments Certification